✅ Stable, Last Update March 8, 2023

When a player connects they're welcomed with a personal chat message.
A global message "Netch64 has connected" is sent to everyone else.
Messages are permission based and randomly selected.
Optional permission based image that displays to everyone for X seconds.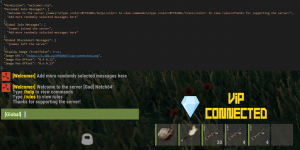 Image Library – https://umod.org/plugins/image-library – (Required for image popups)


welcomer.ignore– Users with this permission will not be welcomed.
Customize as many permission groups as you want.